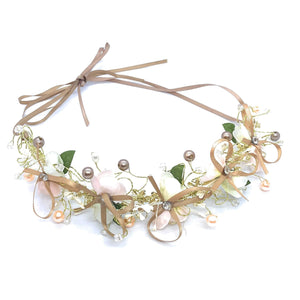 'Ribbons and Bows Flower Headband'
This is such a pretty headband. 
The wired gold bendable headband features pretty soft pink and white flowers with small delicate green leaves.  Small fixed diamante stones and a soft gold bow finish each of the flower detailing, along with clear and coloured pearlized beads scattered along the length. 
The underside has small circular pads to hold the wrap in place along with the tie ribbons either side.  (Band can also be held in place with Kirby grips).
This makes a wonderful bun wrap too.